Here is a card made with my new, completely hooved lamb and your little 'extra' lamb. Aren't they cute together?!
If you're ever looking for someone on your design team, I'm so in LOVE with your stamps, please keep me in mind!
here is my first card, made with the briard stamp I bought from you. I like so much! The stamp is wonderful and I´m sure I´m going to use it often!
Thanks again!
---
Sharon D., a web customer writes:

1st Email:
Subject:
LOVE IT, LOVE IT, LOVE IT!
Wow, that was fast shipping from PA to IL. My stamper order arrived Tuesday, having just been mailed last Saturday! I just LOVE my new Coton de Tulear stamper! It is such a beautiful image and really depicts the breed well. I want to try out my Mom's poodle stamper but am trying to resist the urge until I see my parents in a few days. Thank you for offering these wonderful products. I love to embellish my "snail mail" and will be using your product regularly. Best wishes for a nice Thanksgiving.

2nd Email
Subject: Beautiful "stamper" with Coton de Tulear image
Hello Members,
I want to share with you my latest personalized "breed" purchase. It all started when Rebecca sent me a check toward Eileen's silk floral arrangement. She had an adorable stamped image of our beloved Coton de Tulear's on the outside of the envelope. I e-mailed her as to where she purchased it as I love to embellish my envelopes with stickers and stamped images. Unfortunately, Rebecca acquired her stamper some time ago and didn't think it was available anymore.
Therefore, I went on a quest to search the Internet for such an item. I am very pleased to report I have found such a stamper! I ordered it and it came in just a few days from PA. Although it doesn't have the breed name printed under the image, it is a beautiful depiction of the Coton de Tulear. You can visit the site at: www.DogStampsPlus.com. There are many breeds available for those that have more than one breed of dog. There is also a cute stamper that says: "This envelope sealed with Doggie Kisses". (or Dog Drool). Debbie at Customer Service is great in getting back to you if you have a question.

Hi.
I wanted to let you know how pleased I have been with my recent stamp orders- GREAT! I'm especially happy with the unmounted stamps because I can buy more stamps and mount them myself. I was amazed to see your unmounted stamps were already cut to size and on a pad, all I had to do is peel,stick,and stamp! You guys are super! Thanks for the excellent prices, selection, and service! ~Kim C
---
Delores from Pug rescue in OH writes:

Thanks so much for sending the additional stamps. How thoughtful & generous of you! I can guarantee they will be put to good use. Summer is always a busy time for the organization with lots of event opportunities for raising funds & trying to find forever homes for the fosters. My head is spinning with ideas! I know I'm prejudiced, but I especially love the pug stamps.
Here is a picture of my two Rescue girls, Eema & Cher, in a snuggly moment.
Thanks again for your kind support! I'll be very busy ;-)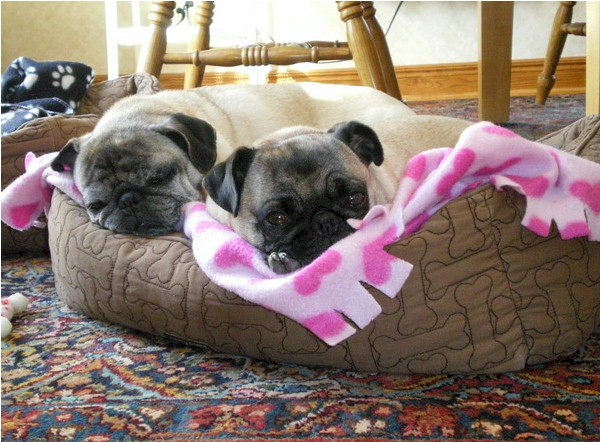 ---
Rita H. writes:
1st Email
Subject: Bow Wowsa!
Okay, you have outdone yourself AGAIN. Why in the world I stopped at the store on my way home from work today, when all along I could have just gotten fed by the magnificent stamps waitimg for me in the mailbox. Hey! Remember when you were a kid (two years ago) and your brother always told you to eat your favorite thing last because when you hiccup or burp you could taste the Twinkie again, and that's why the best is saved til last? Well, I failed. I couldn't do it. The rubber stamp packet barked, "Open me! Me, me, me! Open me! Right here, yes-yes-yes! Open me!" ... and I couldn't wait to see what was inside. (Better than a Twinkie hiccup!)
I just LOVE the stamps I ordered, and thank you SO MUCH for the bonus paw print to boot! Starting tomorrow, interoffice mail is going to be tracked by one little suspicious paw stamped on everything. Lord knows how we all need joy in our lives, and what could be a better smile spreader than a little paw!
Thanks again for your great stamps. Multiple wow-bows to you at Dog Stamps Plus!
2nd Email
Hi, Debbie and Company!
I did send an email last night, but it created an endless hourglass on the screen so must have got out of the yard to find a fire hydrant. I don't know what happened to it since it hadn't been chipped yet. But I wanted to tell you that dear Janet's statement, 'there should be more people in the world like me', was so sweet and filled with kind kibbles and buttered bits that it made my tail wag. On the other paw, it filled my Hound Dog eyes because (I agree) people just don't even make a little Yorkie of an effort to try to be happy and grateful.
Since my previous email, interoffice mail has left my department with one paw-tato, two paw-tato, three paw-tato, four paw-tato, and I can't wait for those envelopes to show up again one day, after being sorted, delivered and readdressed to employees between our two hospitals. Just a little something to make one paw-tato to another paw-tato smile. Staff will no doubt think a couple of our therapy dogs are behind this secret stamping to smuggle smiles setup.
I have always had gentle affectionate cats, but I love dogs equally so. I'm thinking I'd like to get a Norwich terrier that has red rhinestones on her collar, and I'll name her Ruby McDoggle.
Thanks again, Debbie and dear neighbor Janet and all your other great stampeeders helping with stamp orders each day. You have tossed me delightful joys and treats as well. Thanks for your part in It's A Wonderful Woof!
Still wagging,
Rita
---
Jan from Arctic Aire - Alaska Airedale Rescue writes:
Yes! So many in rescue, they just need to find the right people for them. Attached are two I placed this summer, Clancy and Oscar. As you can see, I don't stick to just Airedales, but I do try to limit them to terriers, otherwise I would be up to my eyeballs in rescues It seems like I end up with the dogs with issues <g>. Fingers crossed there won't be any for awhile. I almost didn't let Clancy go, I was crazy about him, but he and my Airedales wanted to fight. He had such a rough time in his first home being beaten up by big dogs, so I decided he would be happier as an only dog. He is in a wonderful home with an older man now. Oscar wasn't even a year old, he had swallowed a toy and nearly died. He cost thousands to get fixed up, but he is healthy now and living a great life. So, it's all worth it, it only costs lots of time and money <g>.

Anyway, I look forward to the stamps, I know I will do something with them.

Thanks! Jan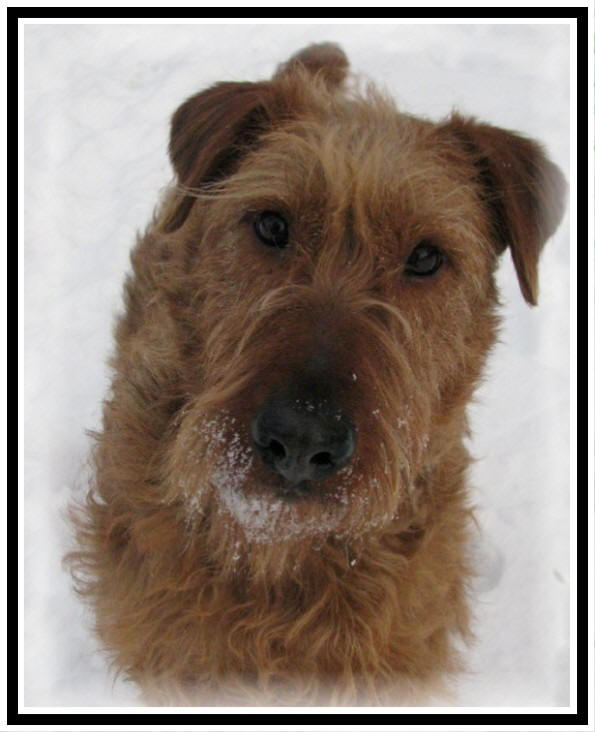 Clancy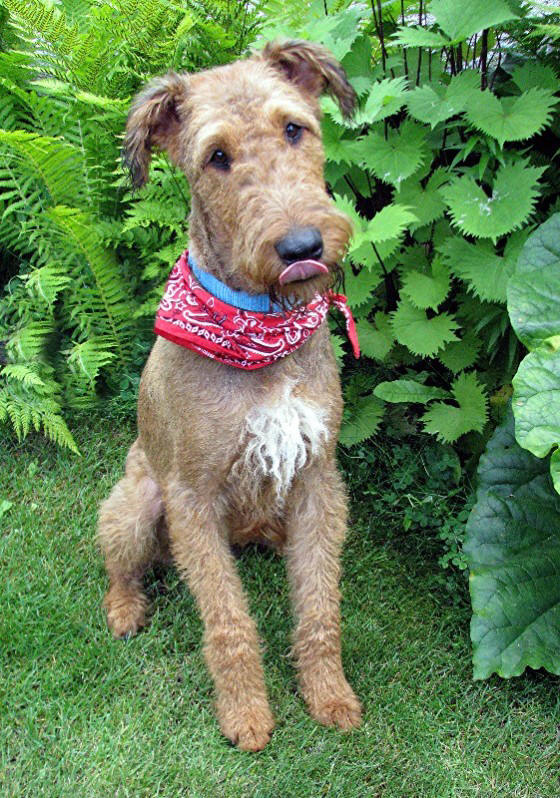 Oscar
---